Baptism Site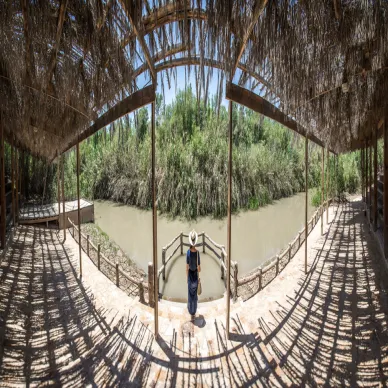 Two millennia ago, the area opposite Jericho has been identified as the place where Jesus Christ was baptized by John the Baptist, making it one of the focal Christian pilgrimage sites. The area known as "Bethany Beyond the Jordan" has been discovered between the Jordan River and Tal Al-Kharrar (St. Elijah's Hill). A cave was discovered where John was living when he baptized Jesus. It is from this hill that he ascended to heaven in a chariot of fire. Findings from the early 1st century AD confirm the site was inhabited during the lives of Jesus and John the Baptist.
What To See
St. Elijah's Hill, another one of the designated pilgrimage sites, is now the focal point of the Baptism Site and is covered with the remains of a Byzantine monastery with churches, large baptism pools and a water storage system.
These facilities were mentioned in texts by Byzantine writers, who linked them with the tradition of Jesus' baptism. One of the earliest Christian prayer facilities discovered in the world, can be found in a 3rd century building with a white mosaic pavement. You can also find five plots of Church including: The Anglican Church, The Catholic Church, The Armenian Church, The Coptic Church and The Russian Pilgrims' House.